The below article featured in The MJ magazine.
GatenbySanderson's Phil Whitman outlines the importance of embracing adaptive leadership in public services.
In an environment of continual and relentless change, the days of drawing up a plan and waiting for it to neatly unfold are a distant pipedream. When change seems perpetual, what was a good plan yesterday may not seem like a good plan today. How do local government leaders navigate this change and balance short term priorities versus long term strategy? 
When Harvard leadership experts Ronald Heifetz and Marty Linsky published their book Leadership on the Line in 2002 they described adaptive leadership through the metaphor of the 'dance floor and balcony'. It illustrates how leaders need to metaphorically be active in adopting a strategic perspective (head up to the balcony) while remaining connected to their daily workload and understanding what is happening on the front line (the dance floor). The ability for leadership teams to perceive, observe and intervene by moving between the dance floor and the balcony reflects how successful they will be in dealing with changing priorities. Hearing this example of adaptive leadership again recently at the launch of the 'upon Leaders Programme' for aspiring directors of children's services (of which we are a partner) I wondered if this metaphor could be any more pertinent than for public service leaders at the start of 2021. 
Through our extensive work with public sector leaders and senior teams during the initial wave of the COVID-19 pandemic, in the throes of the crisis, we noticed that leadership teams were needed on the dance floor, to support the frontline who were dealing with a massive increase in demand from their communities. The level of detail and control was needed during a period of immense uncertainty. The devil was in the detail, as local authorities looked at how they could swiftly adapt operations, services and employee working practices during this transition. We have seen many positive examples of how local authorities have responded to changing priorities and the pivotal role played in the national response. 
In the same analogy, Heifetz and Linsky discuss the temptation for leadership teams and executives to remain grounded on the dance floor which can present several risk factors. For example, operations and services might become increasingly dependent on more constant senior leadership input, disengaging operational and functional leaders from fulfilling the roles they have been appointed to. This can lead to a disempowered middle to senior leader population and an exhausted senior leadership team. It can also reinforce the role of the leadership team as heroes rather than enablers. This works against the organisations people, management and leadership development efforts, undermining plans to engage and create autonomous, free thinking and engaged teams. 
The art of adaptive leadership however is not to stay rooted permanently on either the dance floor or the balcony but to have the ability to move in and out of challenging situations objectively to fi nd perspective and yet stay abreast of the matter at hand. Leadership teams and executives are therefore required to move back and forth as both 'participant and observer'. 
The key to adaptive leadership begins with diagnosing the situation which allows us to apply the most effective response – is it a technical challenge which can be solved quickly through the knowledge of experts in specific areas or an adaptive challenge which is more complex and ambiguous? The key differences between these challenges are outlined as follows: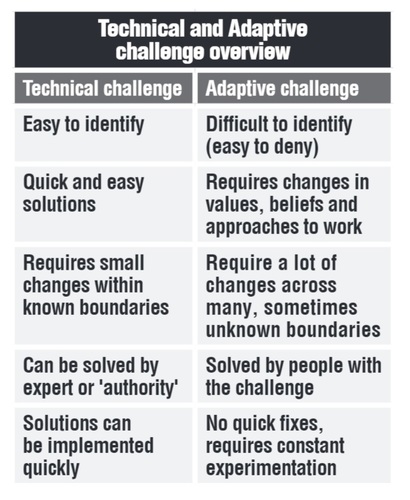 Adaptive challenges refer to situations where there are no known solutions to the problem, or cases where there are too many solutions but no clear choices – the type of challenge we were all faced with at some point last year! Adaptive challenges cannot be solved through technical solutions and vice versa. Solutions to adaptive challenge usually require people to learn new ways of doing things, change their attitudes, values and norms and adopt an experimental mind-set. Adaptive challenges require an adaptive leadership style bringing others with them on the learning journey. 
At the start of 2021 we find ourselves in the middle of a new national lockdown as well as navigating a post-Brexit landscape. No one is underestimating the challenges that lie ahead, but what is apparent is that these challenges also bring about an opportunity to do things differently, to continuously improve and to adapt. Participants on our leadership programmes have noted that it has been extremely useful to have designated time set aside to work 'on the organisation' rather than 'in the organisation' without distraction. Of course, formal leadership programmes are not the only way to 'step up to the balcony' but being mindful of where we are spending most of our time and effort is beneficial.
Getting up on the balcony takes discipline and is a tricky art form. The operational pressures all point you back to the dance floor and will continue to do so throughout 2021 but maintaining that strategic perspective will be pivotal in the months ahead. 
Phil Whitman is Client Solutions Partner for GatenbySanderson's Leadership and Talent Consultancy  
If you'd like to contact Phil you can email him at 
phil.whitman@www.gatenbysanderson.com