Well done to all of our LeadershipNOW! graduates for 2023!
Launched over three years ago, LeadershipNOW! continues to champion managers and aspiring managers from diverse backgrounds. We have seen first-hand the fantastic results of the programme over the last three years, including the:
70% of you who have applied for a new role since graduating
59% of you who have received a promotion and/or pay rise since completing the programme
90% of you who've felt your confidence levels increase as a result of the programme
and the 40% of you who have received a promotion as a direct result of the programme
The whole of the Leadership NOW! team were so happy to pass on our congratulations to all our graduates and bring them together with alumni, UNIFY and G15 members as well as leaders across the sector at our graduation celebration event last week. It was an inspiring afternoon, with speakers from across the sector and networks sharing their challenges, opportunities and leadership stories:
Kelly Thomas, Social Value and Fundraising Manager at MTV, one of our programme alumni and member of UNIFY launched the afternoon with an inspirational take on her journey into leadership
Rosie Gunn, Principal Consultant at GatenbySanderson shared reflections from the last three years of the programme
Next we heard from Andy Hulme, CEO at The Hyde Group who spoke about the G15's commitment to Diversity which led to some fantastic and challenging Q&A from the floor, discussing how much more we need to do as a sector
We also enjoyed a workshop led by Sophie Edmond in GatenbySanderson's Leadership & Talent Consultancy team, on how to use humour to build resilience – a key skill for leaders
Jamie Ratcliff, Executive Director of People, Partnerships & Sustainability at Network Homes, then discussed the challenges and opportunities facing the sector right now
The incredibly inspirational Chyrel Brown, COO at One Housing Group, took us on her journey of leadership and her career
Three of our graduates then shared how the programme has impacted their careers, before celebrating with the presentation of certificates
Finally we heard from Anthony Were, Development Manager at MTVH and UNIFY chair who closed the graduation with a rally call for the sector and the networks championing and delivering change and opportunities for diverse leaders.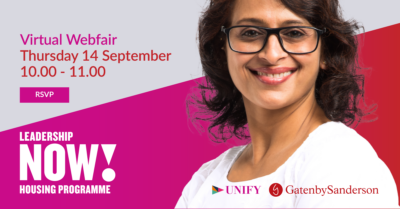 If you want to join us in improving opportunities for diverse leaders in housing, we are opening applications for the next Cohort of LeadershipNOW! Find out more and join us for a free webfair to learn more and ask any questions about how you, or your organisation can support you through the programme.